Landscape Supplies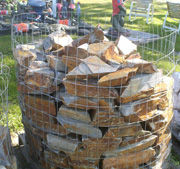 Drop by the Hill Billy Rocks sales center in Gainesville for a wide range of landscape supplies to create, decorate and maintain your outdoor environments.
Landscape Stone & Dirt Fill
Wide variety of landscape stone supplies available in-stock or for custom orders. Ask about delivery when placing your order!
Natural Decorative Stone
Flagstone
River Rock
North Carolina Rock
Rock Fill / Gravel
Mulch – Multiple varieties
Topsoil & Potting Soil
Many more natural stone materials kept in-stock or available by order. Drop by our Gainesville location or call 352-472-3699 or 352-283-4777 for details.
Additional landscape supplies:
Concrete statues and water features
Yard and patio furniture
Visit us in Gainesville and stock up on this season's landscape supplies.
Hill Billy Rocks is located at:
Greenhouse Nursery
15207 W. Newberry Rd.
Gainesville, FL 32669
Find directions.
Phone:
352-472-3699 or 352-283-4777
-
Yahoo! Local Listing
Serving Gainesville, Hawthorne, Keystone, Stark, High Springs, Newberry, & Middleburg, FL.