Landscape Stone & More – Gainesville, Florida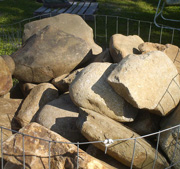 Hill Billy Rocks, Inc. is a landscape stone supplier, offering a wide range of decorative, unique natural stone material for filling landscape bedding and xeriscapes in the Gainesville area.
Also offering: Landscape art and concrete statues, topsoil, potting soil, mulch, yard furniture, and more! To see a sample of our landscape stone and decorative pieces, visit the
Landscape Supplies page.
Drop by our landscape supply location in Gainesville!
Hill Billy Rocks is located at:
17525 NE Highway 301
Waldo, Florida 32694
Next door to the Waldo Flea Market on Highway 301 -
Find directions.
Phone:
352-262-9204 or 352-283-4777
Delivery service available!
We deliver landscape stone and additional materials within a 50 mile radius of Gainesville. Call 352-262-9204 or 352-283-4777 for details.
-
Yahoo! Local Listing
Serving Gainesville, Hawthorne, Keystone, Stark, High Springs, Newberry, & Middleburg, FL.